September has arrived. For many this means back to school, college or university. Coinciding with this is the return of some sort of normality as we move into our first autumn out of a new world of lockdowns and many workers head back to the office.
September can often be a time of reflection, goal setting and setting new routines. It can often feel like a mini new year, in terms of building new habits. We thought we would take this opportunity to give some tips to support healthy balance food choices during this transition.
Trying to maintain a healthy diet and life style without organisation and preparation can be challenging, so it's good to think a head and plan meals in advance, especially if your trying to prepare meals or packed lunches for all the family. Sometimes life can get in the way and we can't always be fully prepped, so we'd also like to share some advice on how to manage balanced eating on the go in the day to day.
Have a read through our below tips and tricks and we will include some useful websites and links to help you along the way. We hope you enjoy.
The Preparation Phase
Meal plan
Spending ten minutes thinking ahead and planning what meals to have and when, can save a lot of midweek stress in terms of lunches, and evening meals.
Check the cupboards
Having a rummage through the cupboards to see what you're already stocked up on can save you money, space and reduce food waste.
Shopping list
Write a list, either in a note pad or on your phone and tick it off as you get through it.
Meal Preparation
Depending on your preferences for lunch time, you might batch cook meals. You can store them and bring them as lunches or have a classic packed lunch. Batch cooks work best when you have access to a microwave at work, but there are some options that will also be suitable to have cold or for school lunches.
Batch cooking
This can be a real time saver if you don't have time to do a day to day lunch preparation. Cooking large amounts of a meal/dish, storing it in the fridge for 2-3 days for lunches or freezing them to have when needed can help keep you be prepared for balanced eating.
Storage
Investing in some good quality lunchboxes can be a game changer when it comes to meal preparation. Check what you have in the cupboard – and think outside the box. Also keep any plastic containers/boxes from other food sources or take always that you can reuse to either bring with you or use as fridge storage containers.
Choose your 'cook days'
Usually a weekend and weekday work best in terms of food safety. Sundays and Wednesdays work well for many people, but this will depend on your schedule.
Trying to ensure a balance of carbohydrates, protein, vegetables and healthy fats can support your energy levels, satiety and digestive health. Keep reading for more guidance.
Suggestions for ideal balanced batch cooks

Lasagne
Lentil, beef or veggie mince based with additional vegetables for extra fibre, vitamins and minerals. Try adding frozen vegetable mix for convenience or fresh peppers, onions, carrots and courgette. Why not make two, slice and separate your portions from the second and store in the freezer for those busy weeks when you have less time to meal prep.
Pasta bakes
Chicken, veggie 'chicken' pieces, tuna with a mix of your favourite fresh or frozen vegetables ticks all the boxes. Baking with a sprinkle of cheese for added texture and flavour is a real winner.
Pasta Salads
A pasta base with added meat, veggie protein source or fish of your choice can be prepared in advance and added to lunch boxes with a simple garden salad daily. Use this link for some inspiration: https://www.bbcgoodfood.com/recipes/collection/pasta-salad-recipes
Rice/Grain bowl
You can get creative with these and the varieties are endless. Choose your base grain eg. rice, cous cous, quinoa, add your meat/fish/protein of choice paired with veggies and dressing. Batch cook your ingredients and set ready-made bowls aside or mix and match ingredients for some day to day variety.  Check out this link for some more ideas: https://www.goodhousekeeping.com/food-recipes/easy/g4515/rice-bowl-recipes/?slide=11
Shepherds pie
A classic and comforting as we move towards the winter months. This can be meat or veggie based- just making sure you se some lentils/veggie mince to ensure it's got sufficient protein.
Curries
The varieties are endless. Choose your meat/bean base and there are unlimited online resources and cookbooks to help you to be creative. Batch cook from scratch or if your under time constraints- choose a low sugar low salt sauce + paste, add your protein and vegetables and your in for a sure winner.
Chilli con carne
The mince/lentil chilli base with additional kidney beans and your favourite vegetables is particularly well frozen for use at a later date. By making in a large quantity, this can be paired with rice, potato, baked potatoes or even tortillas. This is a particularly versatile option.
Packed lunch
Sometimes you can't beat a classic. Again trying to make these as balanced as possible containing carbohydrate, protein and vegetables. Below are some of our top tips for different lunch styles for school, university or work. Sandwich varieties are usually best prepared on the day- so set your alarm 10 minutes early or if you have the facilities, bring the components and make at work/school.
Sandwich/Wrap/Pitta
Whether its for yourself or your children, variety is the spice of life so aiming to try new things helps maintain dietary diversity.
Fillings
Chicken/Turkey: Lean precooked options, cook full roast chicken, steam/bake breasts in twos
Ham: Choose lean varieties, and remember UK Guidelines suggest red and processed meat should be eaten in moderation.
Falafel: Shop bought from fridge or frozen, home made if you have the time.
Tofu/Veggie meat alternatives: Fry tofu in a small amount of oil to add some crisp. Being aware of traffic light labels is useful as some processed meat alternatives can be high in salt
Adding fibre and vegetables
Adding salad and vegetables can give you an extra boost of fibre, vitamins and miners as well as add texture and flavour.
Our recent 'Sunlight Slaw' could be a go to filling along with rocket, tomatoes, cucumber.
You could also add rice and beans for extra fibre to make burrito style wraps.
Salads
Salads are usually best prepared on the day to maintain texture and freshness, but to make this easier, you can prep your individual ingredients, store them in the fridge and combine them in the morning.
Check out this link for inspiration for how to jazz up your weekly salads: https://www.thekitchn.com/salad-lunch-ideas-260364
Snacks
Along with your main lunch meal- it can be useful to bring additional snacks to keep you going throughout the day. Eating little and often can help us to maintain our energy and concentration levels, important for work and school productivity. Having lower sugar options which are absorbed into the blood stream more gradually and slowly, this helps to avoid those afternoon energy dips. Below are some of our favourite ideas: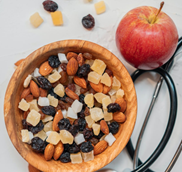 -Carrot/cucumber/pepper sticks with houmous
-Sliced apple with peanut/almond butter
-Rice cakes with peanut butter
-Dried fruit: Apricots, raising, dates
-Fresh fruit: At least 1-2 per day will help you reach the 5 a day recommendation
-Yogurts/soya yoghurts
-Malt loaf
-Popcorn/pop chips
Eating On The Go
We can't always be ready and prepared because as we all know, life often gets in the way and we find ourselves in situations where we need to buy lunch in a shop and eat on the go. It is possible to do this healthily and maintain a balanced diet. Here are our top tips/recommendations:
Choose your main dish
Sandwiches, wraps, salad or pasta/rice dishes are commonly found in most supermarkets. Try to choose whole grain versions for added fibre and vitamins.
Choose your side
Whole unsalted nut pack
Dried fruit packs
Fresh fruit
Carrot and hummus snack packs
Yoghurt/Soya yoghurt
Baked crisps/pop crisps
Rice cake snack
Dark chocolate bites
Often people tend to choose cereal bars in place of chocolate bars as these are usually considered a healthier alternative, what sometimes people do not realise, is processed cereal bars can also be high in sugar. High fibre nut based bars can be a useful go to every now and again but in terms of day to day diet, choosing whole nuts or fruit is a typically a better option.
There are many online resources that can support further, especially with kids lunches. We love the NHS Change for Life site: https://www.nhs.uk/change4life/recipes/healthier-lunchboxes#lunchbox-recipes. Check it out for more inspiration!
We hope you are all settling back into the work and school routine and that the above is helpful to support this transition. Stay tuned for more helpful tips which will address lunches and eating on the go for those of you following exclusion diet, including the low FODMAP diet.
The Sunlight Nutrition Team